Guidelines - Public / Private cooperation
- Who Does What?
Working together on these action plans, the Town, its institutional partners, and property owners can accomplish much to restore, improve and maintain our rural roadsides.
Together we can:
Enhance Lincoln's public face, for ourselves and our visitors
Clean up, reveal, repair and maintain stone walls
Remove invasive plants and replace with natives
Open up views into agricultural and historic landscapes
Use natives when replacing trees
Protect rural road character when dealing with traffic and utility needs
Improve appearance and placement of guard rails, lighting, signs
Enhance public safety with better visibility for motorists, pedestrians, bicyclists
What does Lincoln Town do?
The Town mows, plows, and removes invasive species and dangerous plantings within the public right-of-way (ROW). It is responsible for:
maintaining safe intersections
installing and maintaining drainage, pedestrian paths, cross walks and guardrails
enforcing regulations related to roadsides
The Town also removes dead or dangerous trees, except those near utility lines that are managed by the utility companies. A program of new tree plantings for the public
ROW
and Pierce Park is managed by the Tree Warden. The Conservation Department also works to maintain the roadsides along Town conservation land.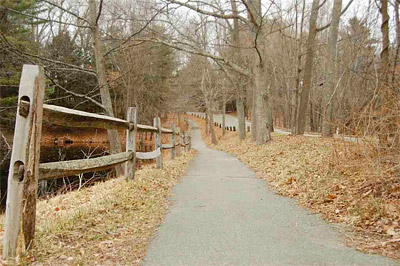 Codman Road bike path / stone walls near Codman Farm; recently cleaned out by Conservation Department and DPW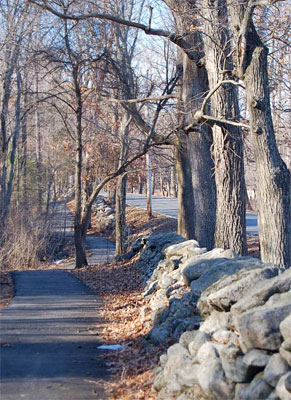 Trapelo Road bike path, recently repaired by DPW



What can Property Owners do?
As a property owner in Lincoln you can help to restore and maintain your roadside and
bordering landscape
. First Identify your road type and its needs. Then take action:
Clean up trash and invasive plants
Clean out and repair stone walls
Use native plants and replant any ground disturbed by clean up
Work with your landscape and home contractors on appropriate maintenance
Work together with your neighbors to improve your neighborhood roadsides
And remember to contact these town departments with questions and for more information on how to treat the public right-of-way.
For more ideas, review the Guidelines page and for a complete list of suggested guidelines, see the Full Report.